Taught by Jacalyn Prete
Sunday, December 5th 1:30-3:30pm EST
Hybrid- Join in person or online via WYC's workshop zoom platform
https://zoom.us/j/7806079246, enter password: WYC
Come to the Urban Peace Retreat, an oasis in the middle of the frantic holiday season!
In this 2 hour, Sunday afternoon, restorative yoga workshop, students will experience deep relaxation, self care and rejuvenation of the body, mind and spirit.
The Urban Peace Retreat includes:
Basic information about aligning with nature through the lens of Ayurveda- ancient yogic wisdom on healing
​Self-massage and therapeutic myofascial release techniques that prepare the body for deep relaxation
​Practices of Restorative Yoga, Yoga Nidra, Meditation & Pranayama
The best way to feel balanced this holiday season is to build up the subtle essence of your Immune system. This workshop will include putting your nervous system into "Rest and Digest" mode, and boost and balance your immune and endocrine systems.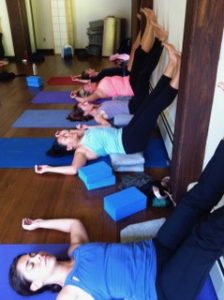 Come and enjoy Jackie's playful, heart-felt presence. In this workshop you will learn transformative health-enhancing teachings of Ayurvedic self care and do yoga practices that take you deep inside.
All levels are welcome.
Come and discover an Inner Oasis at the Urban Peace Retreat.
Price: $35
Register to join online: here
Register to join in-person: here
Preregistration is required to join in-person!
If you have trouble registering through our online system, please email worldyogacenter@gmail.com.
////////
SUPPORT FOR LOGGING INTO THE WYC STORE:
If you are new to the WYC:
Beneath the Sign in, there is the option to Sign up
Once registered you can click on the Store tab to to purchase this workshop in the online store.
If you get stuck please email worldyogacenter@gmail.com for support
If you have been to the WYC:
Login if you know the email and password for our online system
If not, hit Forgot your password? to retrieve and re-enter with a fresh password.
OR maybe you have been with us since before computers. If so, try Attended classes but don't have account?
Social Share