Taught by Jacalyn Prete
Sunday, January 24th, 2:00-4:00pm EST
Online via WYC's zoom platform
The Urban Peace retreat is an online restorative, rejuvenating Anusara Yoga workshop that serves to bring students into their innermost essence through the practices of:

Restorative Yoga (deep restful poses in which energy flows through the subtle body)
Yoga Nidra (guided relaxation, moving into the beautiful twilight between sleeping and waking)
Pranayama (yogic breathing practices)
Meditation (exploring the inner worlds)

Jacalyn will also offer instruction on protocols from the ancient science of Ayurveda to take care of our body's natural well being and intrinsic health so it flows in harmony with the earths's rhythm and cycles of day and night and changing seasons.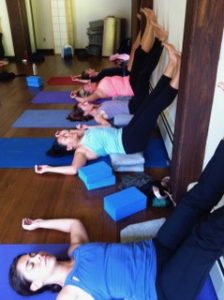 In the Fall the elements of Space and Air are dominant. What is needed at this time of year is grounding practices in order to get deep restful sleep, easeful digestion, mental clarity, and to calm our nervous system.
In this time that calls us to be resilient and centered, the restorative practice is used to boost your immune system and regulate your hormones, and reduce inflammation in the gut and the joints.
Come and enjoy Jackie's playful, heart-felt presence. In this workshop you will learn transformative health-enhancing teachings of Ayurvedic self care and do yoga practices that take you deep inside.
All levels are welcome.
Come and discover an Inner Oasis at the Urban Peace Retreat.
Price: $35 / $45 (sliding scale)
Register: here
You will need a yoga mat, some blankets, yoga blocks and strap and comfortable loose fitting clothes. If you do not have all these props we will find ways to improvise with what you have around the house.
You will receive an email with the workshop login link at 10am, the morning of Sunday, November 8th. The link will also be posted on the WYC homepage.
In case you are not able to register in advance, please arrive 10 minutes early to register.
If you have trouble registering through our online system, please email worldyogacenter@gmail.com.
////////
SUPPORT FOR LOGGING INTO THE WYC STORE:
If you are new to the WYC:
Beneath the Sign in, there is the option to Sign up
Once registered you can click on the Store tab to to purchase this workshop in the online store.
This way it is easy to integrate you before the class begins.
If you get stuck please email worldyogacenter@gmail.com for support
If you have been to the WYC:
Perhaps you know the email and password for our online system. If not, hit Forgot your password? to retrieve and re-enter with a fresh password.
OR maybe you have been with us since before computers. If so, try Attended classes but don't have account?
Social Share