Join us for a Community Satsang!
Saturday, June 13 at 6:30pm
Co-lead by Rudrani and Tyrone
COME ONE COME ALL
We are witnessing a widespread deeper awakening to what has always been clear… that the task ahead belongs to everyone and requires a maturation within ourselves. We have all already been re-orienting our priorities during this Pandemic, making this time exceptionally fertile for what is unfolding now. We are being called to rebuild our social fabric on higher ground and to be sure that changes are lasting.
As yoga students, we already know to use practices to consume old internal conditioning and rise above the sense of separation from "other." It is possible now to reveal even more the greater unity hidden beneath the surface of our human family and shine a brighter light on the way we are to build anew.
This satsang will include the teachings, practices, and sharing as we take a dive into the shadow side of our country, let our own viewpoint expand, use the yoga of inquiry we know well, find our way in the options ahead, and tell our stories. Let's dive deep together, with courage and love.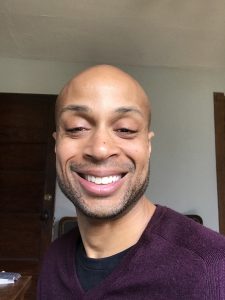 Co-host Tyrone Holmes is a husband, father Interfaith minister, yogi author and poet
(see The Undone Heart) who taught at the WYC for 8 years.
If you are new to meditation as a practice, there will be instruction to support you. All are welcome.
Log on to https://zoom.us/j/5287932595, enter password: YOGA (zoom link will also be on the WYC homepage Saturday evening.)
Social Share