The World Yoga Center is becoming a Non-Profit School of Yoga!
Saturday, November 18, 2023
Time: 6:30-9:00pm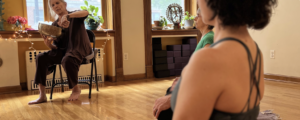 On this special night, please help us raise donations and energy. With your participation, moving together as a community, we can create something that serves with greater scope and wider reach, more bountifully and with more love!
We will be in Satsang together- diving into a beautiful chant and meditation. In addition, we intend to celebrate Rudrani's 85th birthday, which comes right at this time. Don't miss the refreshments and delicious goodies!
Please join us!
Ticket Prices (in-person and virtual):
Dedication ticket:​​​​​​ $50
Devotion ticket: ​​​​$100
Oneness ticket: ​​​​​​$500
Bliss ticket: ​$1,000
Or, if you cannot come or would like to give at another level, we welcome you!
Special thanks to the World Yoga Center Board of Directors for sponsoring/covering the costs of the evening. This means that all of our guests gifts will fully support the World Yoga Center.
**According to the laws, until we are fully established in non-profit status, gifts are not tax-deductible. We expect to receive this full status soon. A that time, this gift will become tax-deductible.
Thank you to all the yogis and yoginis who are providing selfless service to support this evening for us all.
Logistics:
To honor this auspicious occasion, it will be on a first come first serve basis for in person attendance with unlimited attendance available virtually.
In-person attendance will be limited to keep as safe as possible. We ask those coming in person to do a rapid COVID test and confirm that you are negative before coming.
Those attending online will receive a livestream link and be able to join 15 minutes prior to the beginning of the event.
Social Share