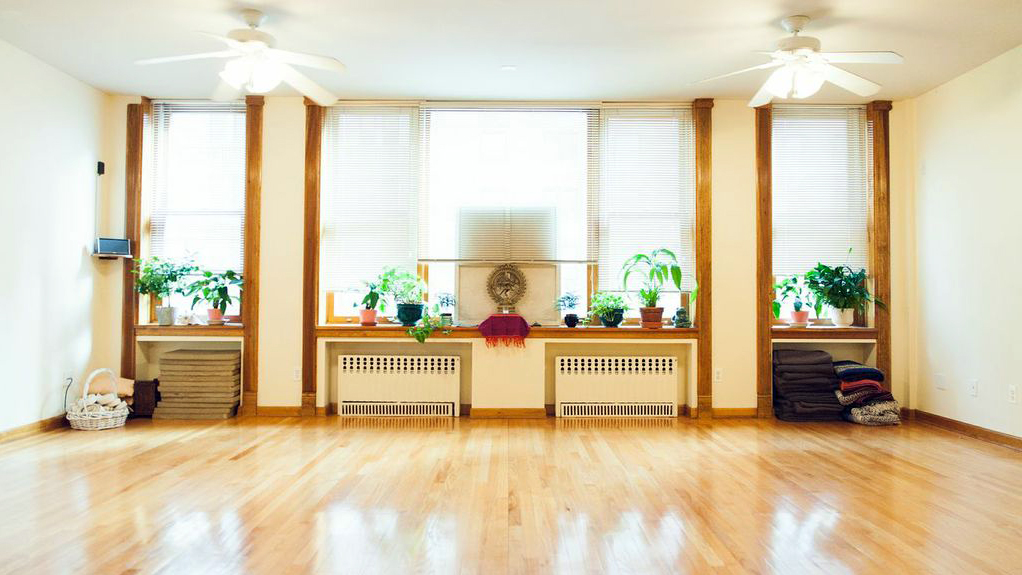 'For 45 years the visionary power of the WYC has built a strong energy in this space that supports any teachers, facilitators, healers and health practitioners offering programs to their people. It is an opportunity to be in this amazing atmosphere.'
The WYC space is one single room, with two adjacent bathroom/dressing rooms. It is available at the times indicated on the chart below. We offer this beautiful space to teachers or groups when the school has no scheduled classes or private renters already using it. We prefer ongoing renters. The WYC has strong vibrations of peace and is an ideal place for spiritual practices.
"On behalf of our group, I would like to tell you just how much we enjoyed being able to meet in such a wonderful space. The yoga studio is lovely, the energy terrific, and everyone was very helpful and accommodating." ~Renter
Rental Amenities
The Center is located on 72nd Street, just off West End Avenue on the second floor of a walk-up building. It is easily accessible by the No. 1, 2 and 3 subway trains and various bus lines including the M7, M11, M72 and M104. The school has an entire front wall of windows with a southern exposure. The studio dimensions are 24 ft. x 24 ft. Rental amenities include a finely finished wooden floor and moldings, adjustable lighting, ceiling fans, air-conditioning, two dressing rooms- each with a bathroom, a kitchenette, office space with closing doors and Yoga props (mats, assorted blocks, blankets, straps, bolsters, ropes and folding chairs).
More Information
Contact us by email, worldyogacenter@gmail.com, to discuss your particular needs.
World Yoga Rental Availability:
| | Monday | Tuesday | Wednesday | Thursday | Friday | Saturday | Sunday |
| --- | --- | --- | --- | --- | --- | --- | --- |
| 6:30AM | | | | | | Available | Available |
| 7:00AM | | | | | | Available | Available |
| 7:30AM | | | | | | Available | Available |
| 8:00AM | | | | | | Available | Available |
| 8:30AM | | | | | | Available | Available |
| 1:00PM | | | | | | Available | Available |
| 1:30PM | | | | | | Available | Available |
| 2:00PM | Available | Available | Available | Available | Available | Available | Available |
| 2:30PM | Available | Available | Available | Available | Available | Available | Available |
| 3:00PM | Available | Available | Available | Available | Available | Available | Available |
| 3:30PM | Available | Available | Available | Available | Available | Available | Available |
| 4:00PM | Available | Available | Available | Available | Available | Available | |
| 4:30PM | Available | Available | Available | Available | Available | Available | |
| 5:00PM | Available | Available | Available | Available | Available | Available | |
| 5:30PM | Available | Available | Available | Available | Available | Available | |
| 6:00PM | | Available | | Available | Available | Available | |
| 6:30PM | | | | | Available | Available | |
| 7:00PM | | | | | | Available | |
| 7:30PM | | | | | | Available | |
| 8:00PM | Available | Available | | Available | | Available | |
| 8:30PM | Available | Available | | Available | Available | Available | Available |
| 9:00PM | Available | Available | Available | Available | Available | Available | Available |
| 9:30PM | Available | Available | Available | Available | Available | Available | Available |
| 10:00PM | Available | Available | Available | Available | Available | Available | Available |
| 10:30PM | Available | Available | Available | Available | Available | Available | Available |