The World Yoga Center Advanced Trainings

WYC's Continuing Education Program presents a 300 hour Advanced Teacher Training designed to support our teachers' development as teachers and as transmitters of Yoga with the required course work needed for registration at the 500 RYT level. These 300 hours of continued training will be used to explore the breadth and depth of specific areas of teaching, engage trainees more deeply in the practices of Yoga, and refine and hone their teaching skills. The varied expertise of our WYC faculty will be a rich resource for trainees in their continued learning. These 20-45 hour modules, spaced over two years, are available in succession and can be taken individually. Teachers not seeking 500 RYT status and practitioners who are not active teachers are also invited to participate and enjoy the benefits of focused study, and will be welcome in most (if not all) of these advanced TT modules by discretion of the trainers.


The 300hr Advanced TT is a flourishing program carrying the WYC's vision of a more awakened and compassionate world. This program welcomes teachers of all levels of experience and is designed to support their sadhana, their inner development and their ability to serve.
Take the full year for a substantial discount, take two or more modules and receive a discount as well!
For more information on the modules and to register click here.
The full curriculum for Fall 2017-Spring 2018:

The Wisdom of Ayurveda & Hatha Yoga
In Celebration of the Divine Feminine with Jackie
September- October 2017
20hrs
Click here for more details.
Pranayama and Subtle Body Anatomy with Julia
October- November 2017
20hrs
Click here for more details.
Power of Revelation Part II: Meditation Teacher Training with Rudrani
November- December 2017
28hrs
Click here for more details.
The Body Reveals with Julia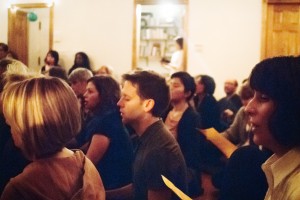 January- March 2018
40hrs
Click here for more details.
Refining Teaching Skills with Jackie, Julia and Rudrani
March- May 2018
45hrs
Click here for more details.
The Wisdom of Ayurveda & Hatha Yoga with Jackie

10 hrs: Bring balance, easeful living, energy and youthful vigor to your life through the study of Anusara yoga and Ayurveda. Learn how to choose the right intensity of practice for your own constitution, for the seasons of the year, the seasons of your life, and time of day you are practicing and/or teaching hatha yoga. Learn how to adopt good health habits to attune you to the rhythm of nature. Everything has a pulsation. Learn how to sleep more deeply and feel more nourished from the food you eat.
DATES:

Sept 30-Oct 1
In Celebration of the Divine Feminine with Jackie

10 hrs: Use Anusara yoga to bring vibrant energy and healing to women's health issues. Bring your hormones into balance. Ease menstrual issues, peri-menopause and menopausal issues, improve your sleep, regulate your metabolism, improve the luster of your skin.
These two module are for students and teachers alike, as we all reclaim our well-being and celebrate the Divine Feminine, we can better support ourselves and others to do the same.
DATES:

Oct 14-15
TIMES:

Saturdays 11-4pm
Sundays 9-4pm
$425, $225 per individual weekend, register here

Pranayama and Subtle Body Anatomy

20 hrs: Pranayama and subtle body visualization are traditional Yogic practices of great potency and inherent simplicity. Engaging our awareness of the full spectrum of the breath– from spontaneous breath to more active breath, reveals how the breath acts as a thread that weaves the seemingly separate body/mind/heart into one single tapestry. Subtle body visualization is an ancient yogic science that opens the door to deep movements and energetic relationships within our own being that are usually overlooked.
Diving into our own practice on a more subtle level, as well as learning how to articulate and guide others, will be invaluable both as dedicated practitioners and teachers. Join Julia in 3 weekends of touching-down-within and together let's reap the resulting harvest of insight, clarity and joy.
DATES:

October 28-29
November 4-5
November 11-12
TIMES:

Saturdays 1-6pm
Sundays 1-4pm
$425, $155 per weekend, register here

Power of Revelation Part II: Meditation Teacher Training with Rudrani

28hrs: Building off of POR part I, this intimate training with Rudrani will include developing the core practices of guiding meditation, articulating the teachings, and facilitating self inquiry. You will become at ease offering a wide variety of practices including the art of group sharing, Q&A -a major means of giving information, story telling and mentoring skills. Mentoring skills in particular support our being artful, tuned in well-wishers for our future students. The Pratyabhijnahrdayam, a sublime sacred text, will also nourish us, with its intoxicating viewpoint on Supreme Reality. Sessions will include deep meditations to raise our Shakti, guided by participants as well as by Rudrani. We will spend some time at the end of this course on various formats for meditation classes, courses, workshops as well as private sessions.
DATES AND TIMES:

Thursdays 6-9pm
November 30
December 7
December 14
January 11
Sundays 11-4pm
December 3
January 7
$575
The Body Reveals with Julia

40hrs: Wisdom from all ages reminds us that the truths of the universe are equally alive in our individual bodies. This is why the yoga sages guide us to know the absolute through the experience of our own Self. It is a process not of memorizing facts or scriptures, but of realizing the fundamental truths are present and supporting us in every moment. In this course we will follow two tracks inward to have this realization for ourselves.
The science of Physiology- a holistic look at the organic processes and functioning that take place within the body to support and carry us forward.
A journey into Tantra's scriptural texts- Yoga's sacred, revealed wisdom that awakens awareness of the reality of the Universe within the body.
Each weekend, we will explore these two learning methods through a combination of lecture, discussion, guided meditations plus a 90 minute asana class.
The course is suggested for teachers and open to all practitioners who want to deepen their understanding beyond the common knowledge of muscles and bones, and weave Tantric wisdom into an enhanced study of the intelligence of the body.
DATES:

January 20-21
January 27-28
February 10-11
February 24-25
March 3-4
TIMES:

Saturdays 1-6pm
Sundays 1-4pm
$850, $780 if you register by Jan 3
Refining Teaching Skills with Jackie, Julia and Rudrani

45hrs: All the main streams of Yoga flow together to create a single well crafted Yoga class: asana, pranayama, chanting, devotion, service, scriptural study, karma yoga, mantra, meditation self inquiry, and more. Together, by stepping into this strong current, teacher and students co-create an inexorable movement into the deep state of Self.
Studying with our fellow teachers, with the express purpose of refining our skills, is uplifting, inspiring and satisfying as we amplify one another's spiritual intelligence. This refinement of skills module is intended to be, in itself, a transformational experience that will not only support our student's development and inner expansion but bring us into a more authentic, creative and joyful experience of the Seat of the Teacher.
The training will explore key topics of class teaching skills including powerful and concise languaging, clear and effective use of the Universal Principles of Alignment, eagle eye observation, assists, partner work and exciting, well-timed demos. The weaving of themes, that inspire and lead students into the true depth of yoga, requires a strong bridge between the ineffable mysteries of our inner worlds as seekers on the path and our powers of articulation, love and community.
Each weekend will focus on one topic and include a public class with each of the three trainers, Jackie, Julia and Rudrani. Being with experienced teachers in action, each implementing these skills in their own unique way, will give participants an opportunity to savor the wide range of subtlety, nuance and power that emerge when we find our own true voice and sing our own song.
DATES:

March 24-25
April 14-15
April 28-29
May 19-20
TIMES:

Saturdays 11-6
Sundays 9-4
$975, $875 if you register by March 1